You Could Be At Risk From Serious Radiation Exposure
All Imported Walkie Talkies and Cheap 2 Way Radios Purchased Online, Could Cause Health Issues
Only Radios Carrying The RCM or C-Tick Logos are Safe For Use
Call Us For Details 1300 870 297
Why are Imported Radios Illegal to use in Australia.
Australia has stringent laws for two-way radios. This includes the testing and approval of hardware including the Transmit and Recieve stages for approved operation complying to Australian Specifications from the ACMA (Australian Government) for the Safe Operations of Radio Transmitters.
Each 2 Way Radio must undergo expensive type approval test to ensure it does not exceed normal radiation standards and to ensure safety whilst operating the device.
If a radio has not been approved then it is instantly ILLEGAL to own and operate in Australia. Heavy Fines can be levied on Users and Importers who break these laws. Radio Inspectors are out there checking and tracking Illegal Users and importers all the time.
How to tell if your radio is Legal 
Check for an RCM or C-Tick Lable (like the ones below) check on the inside case under the battery area. If the two-way radio dos NOT have these Marks or Stickers then the Radio Is Illegal for use in Australia
or
The older mark like this with a N12345 styled number after the label is called a C-Tick.
C-Tick Logo: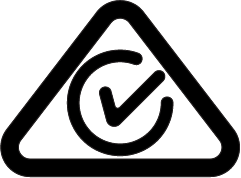 These illegal unapproved two-way radios pose a significant risk to public safety, not only are they often programmed Illegally to the same frequencies as those used by the Police, Fire & Ambulance services and Licensed Private Frequencies but also because the radios sometimes transmit across multiple frequencies because they are cheap and badly designed.
The following fines are applicable if a user is found in possession of a radio:
The Australian Government Department ACMA (Australian Communications and Media Authority) has legislated that only Radios which pass the approval System can be sold and used in Australia.
As of January 2007 the maximum penalties for the misuse of the legally allocated CB emergency channels are:
For general misuse – if an individual 2 years imprisonment, otherwise $165,000 (a $220 on-the-spot fine can be issued in minor cases per radio); or
For interference to an Emergency call – if an individual 5 years imprisonment, otherwise $550,000
Illegal Motorola Radios
The following Motorola models are illegal to import and/or use in Australia:
These radios are NOT type-approved and are actually programmed on American UHF Frequencies (FMRS) which are Illegal to use in Australia. ALL Motorola Radios Starting with the Model Letter T xxx are Illegal to use in Australia and NZ.
TLKR T3 Radio
TLKR T5 Radio
TLKR T7 Radio
TLKR T4 Radio
TLKR T6 Radio
TLKR T8 Radio
TLKR T40 Radio
TLKR T41 Radio
TLKR T50 Radio
TLKR T80 Radio
T60 Radio
T61 Radio
T80 Radio
T81 Radio
TALKABOUT T92 H2O Radio
TALKABOUT T42 Radio
TALKABOUT T62 Radio
TALKABOUT T82 Radio
TALKABOUT T82 Extreme Radio
DTR 2430 Radio
DTR 2450 Radio
XTR Digital Business Radio
XTR 446 Business Compact Radio
XTB446 Business Radio
XTNi Series Radios
CLK446 Radio
CLP446 Radio
PMR446 Radios
XT4000 Radios
FRS and FMRS Compatible Radios
XPR (USA) Model Radios (The DP series Radios are only allowed to be used in Australia)
GP340
RDU4100
DTR600
T460
T100
T460
T62
T200
T600
T82
T260
T107
T625
T465
748
T5030R
Baofeng Brand Radios are ALL ILLEGAL 
ALL Baofeng Radios Are Illegal To Use In Australia. Most of these radios come in Illegally and are Programmed with Police and other frequencies that interfere with licensed users and Public Safety Radios. These Radios are Dangerous.
Many of these radios are also marketed under different brands such as:
Retevis
Ansoko
eSYNiC
Jason
Tenway
Floureon
Models Such As:
UV5R
UV9R
DMR Models
UV 5XP
BF F8HP
MURS V1
GMRS V1
UV 82HP
UV 82C
UV 5R+
GT 3
GT 5
GMRS 50X1
UV 50X3
UV 50X2
UV 25X4
UV 25X2
Mini UV2501
Mini UV2501
Mini UV5001
888S
UV 9R+
BF T1
A58S
BF R5
RT 22
RT 15
Other Illegal Radios
Brands Such As:
Bell South
Xiaomi
Helida
Roky
Tintec
Olywiz
Zastone
Binatone
Obuby
Wouxun
Puxing
HQT
Binatone
Any-Tone
Free Talker
PLEASE NOTE: Unless you transmit on the Free 80 Channels of UHF CB Channels only YOU WILL NEED A PRIVATE LICENSE for any other frequency. Radio Industries can organise to apply for a Private Frequency (at a cost for ACMA) to you. AGAIN you cannot have an Illegal radio programmed for Australian Frequencies.
RULE OF THUMB
Do not buy NEW 2 Way Radios or Walkie Talkies off Ebay, Amazon, WISH, China or USA. They WILL BE ILLEGAL
Only Buy from an authorised Australian Company
Some Ebay sites say that they are in Australia but are from China making them Illegal.
Always ask if the radio has an RCM or C-Tick Label
News Articles:
Critical Comms Nov/Dev 2019 – SAR Compliance In Australia – Page 24