Radio Industries Australia – Two Way Radio & UHF Suppliers since 1985.
Dealers, Distributors, Designers of Digital & Analogue Commercial Two-Way Radios & Accessories.
Call us on 1300 266 682 for Expert Advice
New Products
Take a look at our new products
Products on Special
Grab a great deal on radios, accessories and more.
Introducing "Ozitel Networks"
Two-Way radios haven't changed, right? Think again… With new technologies such as Press-To-Talk, Radio Industries are breaking through the boundaries of Two-Way radio.
Push-To-Talk Over Cellular 4G/5G Radios (PTT/POC)
PTT is the latest advancement in Wide Area 2-Way Radio Systems, enabling communications with more users in a clear and secure manner. PTT offers Instant Australia Wide coverage using Multi Network 4G/5G/LTE Sims. Using Australia's 3 major networks, PTT allows you to talk to one person or an entire Group of Users instantly. PTT offers interoperability across borders and technologies, keeping you in touch over wide areas without the need for expensive repeater systems. With included features such as GPS, you can track all devices keeping in touch with your team in real-time resolving management hassles and streamlining operations.
Australia Wide/Global Coverage
Utilises Multi Network SIMs
Fully Encrypted Transmissions
Android/iOS* operating system
Instantly Communicate With Groups and Users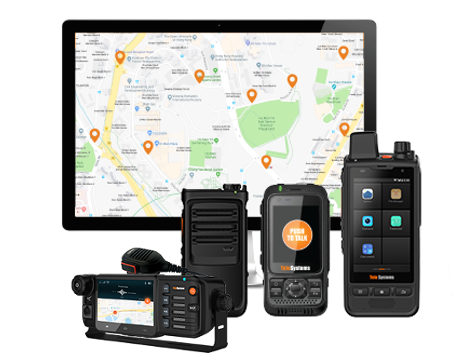 Incredible service. Bob even waited for me after hours to collect the item I needed. Will be recommending your business to everyone I know. Thanks again Bob
Ewen the guy I spoke to on phone , made it all happen, my 1st time Ewen was great to deal with and very very helpful explaining everything end easy to follow , I thank him, received in 2 day's great thank you, Peter Renton
Jim and Jacob sorted our order efficiently and quickly. We had our radios here and ready to use 5 days after payment was made. Very impressed with the professionalism of both employees and they really helped us out because we were looking for units that were in high demand and low in stock.
I used to work in sales (IT) and can only say that the customer support, professionalism, communication and Jim's product knowledge was top tier
Great service, great price fantastic helpful staff. Would not hesitate to recommend to anyone.
Good experience. Product arrived in 2 days, sent express and completely as advertised. Called at one stage about shipping and they were easy to deal with. Happy with the product quality. Would recommend as easy to speak to someone if you have any questions. Great that they request your radio type too to make sure you're buying the right connection. Thanks guys!