Australia Nationwide Private Frequency
ACMA Private Frequency Licensing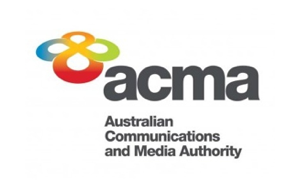 The Radio Communication Frequency spectrum is a finite resource which we rely on in the Radio Communications Sector to be managed efficiently and wisely. The Australian Communications and Media Authority (ACMA)  is the Federal Governing Body that has this responsibility. The ACMA have designated the necessary policies, procedures and band plans for the assignments of frequencies within Australia.
Frequencies and Licensing
It is a Federal offence to transmit on any frequency without a license except for the UHF CB frequencies. All frequencies within each band are required to have licenses except the UHF CB, as these are designated for Public use.
Digital Radios
Digital radios are NOT legal for use on the UHF CB frequencies. These frequencies are for the exclusive use of Analogue radios only.
License Applications – How to get a license.
Radio Industries Australia can apply to the ACMA for you which truncates the time taken by an application direct to ACMA by the public. This application/ approval time is dropped considerably from about 6 Weeks to about 6 Days. The application cost is $688 and a frequency costs between $195 and $295 per year for a single Simplex frequency (Radio to Radio). There are many other options so please ask one of our representatives regarding your requirements on 1300 266 682.
View our
CONNECTOR CHART
to find your connector
K

Kenwood Two Pin Right Angle
3.5mm Stereo + 2.5mm Mono

Kenwood
TK-250/350, 260/360, 260G/360G, 270/370, 270G/370G, TK-3100(ProTalk), TK-3103(Free Talk XL), TK-3102(Pro Power), TK-2160/3160, TK-2170/3170, TL-3130(ProTalk XLS), 3131(Free Talk XLS), TK-2207/3307, TK-2317/3317, TK-3310, TK-2360/3360, NX220/320

Hytera
HYT TC-368

K2

Kenwood Multiple Pin

Kenwood
TK-280, TK-290, TK-380, TK-385, TK-390, TK-480, TK-481, TK-2041, TK-2140, TK-3140, TK-3148, TK-2180, TK-3180, NX-200, NX300

K4

Kenwood Single Pin

Kenwood
PKT-23

M

Motorola Two Pin Right Angle
3.5mm Mono + 2.5mm Stereo

Motorola
GP68, GP88, GP300, GP308, GP350, P040, P110, P1225, P1225LS, P2000, CP88, CP125, CP150, CP200, CT150, CT250, CT450, CT450LS, CP476, PRO2150, PRO3150, BRP40, EP450, MTH500, GTX, SP50, LTS2000, PR400

M4

Motorola Multiple Pin

Motorola
HT750, HT1250, HT1250LS, HT1550, HT1550XLS, MTX850, MTX850LS, MTX900, MTX950, MTX960, MTX8250, MTX8250LS, MTX9250, PRO5150, PRO5350, PRO5450, PRO5550, PRO5750, PRO7150, PRO7350, PRO7450, PRO7550, PRO7750, PRO9150, PTX780, GP140, GP320, GP328, GP329, GP330, GP338, GP339, GP340, GP360, GP380, GP600, GP640, GP650, GP680, GP1280

M5

Motorola Multiple Pin

Hytera Multiple Pin

Simoco Multiple Pin

Motorola
EX500, EX600, GL2000, GP328Plus, GP338Plus, GP628 Plus, PTX760Plus, GP344, GP388, PRO5150Elite

Hytera
TC380M, TC370M, TC780M, TC780

Simoco
SRP9170, SRP9180, SDP650, SDP660

M6

Motorola Multiple Pin

Motorola
GP900, GP9000, HT1000, JT1000, MT2000, MTS2000, MT6000, MTX838, MTX900, MTX1000, MTX8000, MTX9000, MTXLS, XTS2000, XTS2500, XTS3000, XTS3500, XTS5000, XTS5100, XTS7700

M7

Motorola Multiple Pin

Motorola
MOTOTRBO, APX6000, APX7000, XPR6300, XPR6500, XPR6350, XPR6550, DP3400, DP3600, DP3401, DP3601, DP4400, DP4600, DP4401, DP4601

M10

Motorola Single Pin

Motorola
CLP107, CLP117

M12

Motorola Multiple Pin

Motorola
DP2000, DP2400, DP2600, DP3440, DP3441, XPR3300, XPR3500

MT1B

Motorola Multiple Pin

Motorola
MTP850, MTH500, MTH650, MTH800

Y2

Vertex Single Pin Right Angle
3.5mm With Screws

Vertex
VX-160, VX-180, VX-210, VX-210A, VX-231, VX-351, VX-410, VX-420, VX-426, VX-451, VX-454, VX-459, EVX-531

Y6

Vertex Multiple Pin

Vertex
VX-820, VX-821, VX-824, VX-829, VX-920, VX-921, VX-929, VXD-720

D1

Delta Two Pin Right Angle

Delta
Pro16, 16L, 200B, 200K

D2

Delta Two Pin Right Angle

Delta
AS300, AS310, DS300

D3

Delta Multiple Pin

Delta
DS400, DS420

S1

Icom, GME, Vertex Two Pin Straight

Icom
IC-F3, IC-F3S, IC-F4, IC-F10, IC-40S, IC-F20, IC-H2, IC-H6, IC-J12, IC-M5, IC-U12, IC-U16, IC-36FI

GME
TX610, TX6000, TX7000, TX655

Vertex
VX-200, VX-500, VX-510, VX-520UD

S2

Icom Two Pin Right Angle

Icom
IC-F3G, IC-F3GS, IX-G3GT, IC-F4G, IC-F4GS, IC-F4GT, IC-F43GS, IC-F43GT, IC-F43TR, IC-F11, IC-F11S, IC-F21, IC-F21S, IC-F31, IC-A24

S3

Icom Two Pin Right Angle

Icom
IC-F3G, IC-F3GS, IC-F4G, IC-F4GS, IC-F11, IC-F21, IC-F31, IC-F33, IC-F43, IC-F14, IC-F24, IC-F3023, IC-F4023, IC-41S, IC-41W, IC-41Pro, IC-F3003, IC-F4003, IC-F3130D, IC-4140D

S4

Icom Multiple Angle

Icom
IC-F50, IC-F51, IC-F60, IC-F61, IC-F30G, IC-F30GT, IC-F30GS, IC-F31GS, IC-F31GT, IC-36FI, IC-F40G, IC-F40GS, IC-F40GT, IC-35FIM87/88, IC-F3163, IC-F4163, IC-F3163D, IC-F4163D

SC1

Simoco Two Pin Right Angle

Simoco
SRP9120 SRP9130

H1

Hytera Two Pin Right Angle

Hytera
HYTS2100, TC500, TC600, TC2100, TC446, TC700, TC610, TC620

H2

Hytera Multiple Pin

Hytera
PD702, PD782, PD780, PT580, PD780G

H3

Hytera Two Pin Right Angle

Hytera
TC700, TC610, TC620, PD500 Series

H5

Hytera Multiple Pin

Hytera
PD600 Series, X1E, X1P, TC380M, TC370M, TC780M, TC780, TC3000, TC610P