Motorola APX2000 Two-Way Radio
About The Motorola APX2000 Two-Way Radio
The Motorola APX2000 is a commercial two-way radio often used by Government, Military, Correctional Facilities, and more.
The APX2000 delivers all the benefits of P25 technology in the smallest P25 Phase 2 portable in the industry. Easy to use, tough as nails, a hard value to beat, it connects public works, utilities, and local public safety users to first responders for fast, interoperable communications. Durable enough to withstand dust, heat, shock, and submersion, the APX2000 is IP67 and MIL-STD certified. It's packed with key features to help keep you safe, like mission-critical wireless, 2-microphone noise suppression, GPS outdoor location, and AES encryption.
Here's what's new in these radios:
Available in Full or Half keypad variant
UHF or VHF
Optional Bluetooth® 4.0
Over-the-air software updates
Enhanced audio quality
Improved expandability
IP67 Rated
Integrated full or half keypad
Built-In Display
Superior Audio Quality
Get A Quote
Request a quote for the Motorola APX2000 Two-Way Radio
Download The Brochure
apx-2000-series-brochure.pdf
Compact design
Smallest P25 Phase 2 TDMA-capable radio available.
Full-size keypad
Simple to use and navigate.
Colour display
A high-contrast colour display is easy to read in all kinds of light.
Knob
Standard with 2 dedicated control knobs for volume and channel changes.
Optional Dedicated Volume & Channel Knob
Dedicated volume and channel knobs come standard to provide users with mission-ready ergonomics.
Dual microphones
Dual microphone noise suppression technology locates the talker and cancels out any background noise.
P25 Phase 2-TDMA
Twice the voice capacity, allowing additional users on the system without the need for additional frequencies or infrastructure.
AMBE Vocoder
Equipped with the latest AMBE 2 digital voice vocoder.
Two radio models
Two radio models allow the user to select the device that best suits the user's environment.
Mission-critical wireless
Option available to connect quickly, securely and easily to certified Bluetooth devices.
Integrated GPS
Enables accountability and location tracking of an individual, which can be sent to a map-based location application. Optional feature and requires ASTRO 25 Integrated Voice and Data. Integrated GPS/GLONASS for outdoor location tracking.
Encryption
Optional FIPS 140-2 Level 3 AES certified hardware encryption provides tamper-proof security to ensure secure communications.
Intelligent lighting
Uses colour to notify you of the radio mode, potential emergencies, or specific events. Colour alerts provide information at a glance.
Radio Profiles
Adjust audio levels, lighting and tones through user-selected or automated options. Whether on surveillance or working in bright sunlight, you can customize settings as needed.
Text messaging
Offers a freeform or canned messaging solution so you can efficiently and discreetly send and receive messages. Optional feature and requires ASTRO 25 Integrated Voice and Data.
Voice announcement
Audible, pre-recorded voice file provides a description of the selected channel or zone.
Over-the-air programming
Motorola's POP25 solution allows portable and mobile radios to be programmed over the air via the ASTRO 25 systems while remaining in the field. Optional feature and requires ASTRO 25 Integrated Voice and Data.
Additional information
| | |
| --- | --- |
| Analog | Yes |
| Digital | Yes |
| P25 | Yes |
| Bluetooth | Yes |
| GPS | Yes |
| WiFi | Yes |
| Frequency Band | UHF, VHF |
| Intrinsically Safe | No |
| IP Rating | IP67 |
| Channel Capacity | 512, Can be upgraded to 1000 |
| Power (W) | 1W, 4W, 5W |
| Keypad | Full, Half |
| Screen | Yes |
| Side Connector | M7 |
| Warranty | 2 Years |
| Manufacturer | Motorola |
| Supported Systems | Capacity Max, Capacity Plus, DMR, P25, TRBOnet |
Reviews
Only logged in customers who have purchased this product may leave a review.
View our
CONNECTOR CHART
to find your connector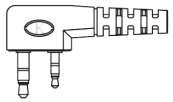 K
Kenwood Two Pin Right Angle
3.5mm Stereo + 2.5mm Mono
Kenwood:
TK-250/350, 260/360, 260G/360G, 270/370, 270G/370G, TK-3100(ProTalk), TK-3103(Free Talk XL), TK-3102(Pro Power), TK-2160/3160, TK-2170/3170, TL-3130(ProTalk XLS), 3131(Free Talk XLS), TK-2207/3307, TK-2317/3317, TK-3310, TK-2360/3360, NX220/320, NX240/340
Hytera:
HYT TC-368

Kenwood:
TK-280, TK-290, TK-380, TK-385, TK-390, TK-480, TK-481, TK-2041, TK-2140, TK-3140, TK-3148, TK-2180, TK-3180, NX-200, NX300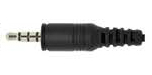 M
Motorola Two Pin Right Angle
3.5mm Mono + 2.5mm Mono
Motorola:
GP68, GP88, GP300, GP308, GP350, P040, P110, P1225, P1225LS, P2000, CP88, CP125, CP150, CP200, CT150, CT250, CT450, CT450LS, CP476, PRO2150, PRO3150, BRP40, EP450, MTH500, GTX, SP50, LTS2000, PR400

Motorola:
HT750, HT1250, HT1250LS, HT1550, HT1550XLS, MTX850, MTX850LS, MTX900, MTX950, MTX960, MTX8250, MTX8250LS, MTX9250, PRO5150, PRO5350, PRO5450, PRO5550, PRO5750, PRO7150, PRO7350, PRO7450, PRO7550, PRO7750, PRO9150, PTX780, GP140, GP320, GP328, GP329, GP330, GP338, GP339, GP340, GP360, GP380, GP600, GP640, GP650, GP680, GP1280

M5
Motorola Multiple Pin
Hytera Multiple Pin
Simoco Multiple Pin
Motorola:
EX500, EX600, GL2000, GP328Plus, GP338Plus, GP628 Plus, PTX760Plus, GP344, GP388, PRO5150Elite
Hytera:
TC380M, TC370M, TC780M, TC780
Simoco:
SRP9170, SRP9180, SDP650, SDP660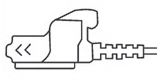 Motorola:
GP900, GP9000, HT1000, JT1000, MT2000, MTS2000, MT6000, MTX838, MTX900, MTX1000, MTX8000, MTX9000, MTXLS, XTS2000, XTS2500, XTS3000, XTS3500, XTS5000, XTS5100, XTS7700

Motorola:
MOTOTRBO, APX6000, APX7000, XPR6300, XPR6500, XPR6350, XPR6550, DP3400, DP3600, DP3401, DP3601, DP4400, DP4600, DP4401, DP4601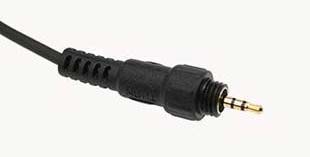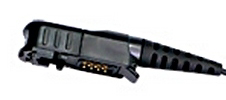 M12
Motorola Multiple Pin
Motorola:
DP2000, DP2400, DP2600, DP3440, DP3441, XPR3300, XPR3500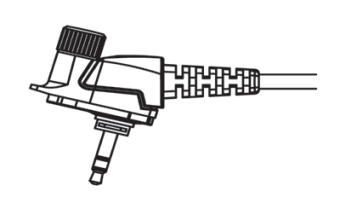 Motorola:
MTP850, MTH500, MTH650, MTH800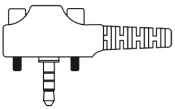 Y2
Vertex Single Pin Right Angle
3.5mm With Screws
Vertex:
VX-160, VX-180, VX-210, VX-210A, VX-231, VX-351, VX-410, VX-420, VX-426, VX-451, VX-454, VX-459, EVX-531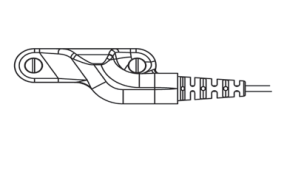 Y6
Vertex Multiple Pin Right Angle
Vertex:
VX-820, VX-821, VX-824, VX-829, VX-920, VX-921, VX-929, VXD-720

D1
Delta Two Pin Right Angle
Delta:
Pro16, 16L, 200B, 200K

D2
Delta Two Pin Right Angle
3.5mm Stereo + 2.5mm Mono
Delta:
AS300, AS310, AS320

D3
Delta Multiple Pin Right Angle
Delta:
DS400, DS410, DS420
S1
Icom, GME, Vertex Two Pin Straight
3.5mm Mono + 2.5mm Mono
Icom:
IC-F3, IC-F3S, IC-F4, IC-F10, IC-40S, IC-F20, IC-H2, IC-H6, IC-J12, IC-M5, IC-U12, IC-U16, IC-36FI
GME:
TX610, TX6000, TX7000, TX655
Vertex:
VX-200, VX-500, VX-510, VX-520UD
Cobra, Ritron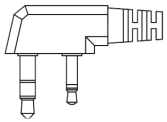 S2
Icom Two Pin Right Angle
3.5mm Mono + 2.5mm Stereo
Icom:
IC-F3G, IC-F3GS, IX-G3GT, IC-F4G, IC-F4GS, IC-F4GT, IC-F43GS, IC-F43GT, IC-F43TR, IC-F11, IC-F11S, IC-F21, IC-F21S, IC-F31, IC-A24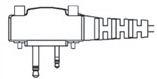 S3
Icom Two Pin Right Angle
3.5mm Mono + 2.5mm Stereo
Icom:
IC-F3G, IC-F3GS, IC-F4G, IC-F4GS, IC-F11, IC-F21, IC-F31, IC-F33, IC-F43, IC-F14, IC-F24, IC-F3023, IC-F4023, IC-41S, IC-41W, IC-41Pro, IC-F3003, IC-F4003, IC-F3130D, IC-4140D

S4
Icom Multiple Pin Right Angle
Icom:
IC-F50, IC-F51, IC-F60, IC-F61, IC-F30G, IC-F30GT, IC-F30GS, IC-F31GS, IC-F31GT, IC-36FI, IC-F40G, IC-F40GS, IC-F40GT, IC-35FIM87/88, IC-F3163, IC-F4163, IC-F3163D, IC-F4163D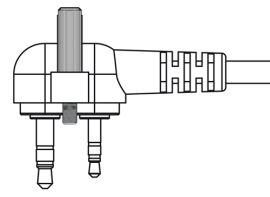 SC1
Simoco Two Pin Right Angle
5mm Stereo + 2.5mm Stereo

H1
Hytera Two Pin Right Angle
3.5mm Mono + 2.5mm Mono
Hytera:
HYTS2100, TC500, TC600, TC2100, TC446, TC700, TC610, TC620

H2
Hytera Multiple Pin Right Angle
Hytera:
PD702, PD782, PD780, PT580, PD780G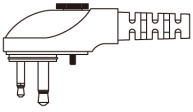 H3
Hytera Two Pin Right Angle
Hytera:
TC700, TC610, TC620, PD500 Series

H5
Hytera Multiple Pin Right Angle
Hytera:
PD600 Series, X1E, X1P, TC380M, TC370M, TC780M, TC780, TC3000, TC610P
Why Choose Us?
Radio Industries is one of Australia's longest-running Two Way Radio Communications Companies, operating since 1985. We are Dealers and Distributors of Quality Digital & Analogue Two-Way Radio Systems, and Hearing Protection Equipment.
What Our Customers Think
"Good experience. Product arrived in 2 days, sent express and completely as advertised. Called at one stage about shipping and they were easy to deal with. Happy with the product quality. Would recommend as easy to speak to someone if you have any questions. Great that they request your radio type too to make sure you're buying the right connection. Thanks guys!"
John Johnson
"Thank you for your assistance with this matter, the whole process from the 'chat' onward through invoicing and payment, has been simple and fast. A pleasure to deal with you and your company. Well done from a business perspective, even for an out of the blue approach regarding a relatively minor order.
Regards, and again, thank you for your help."
Michael Hayes
"Jim and Jacob sorted our order efficiently and quickly. We had our radios here and ready to use 5 days after payment was made. Very impressed with the professionalism of both employees and they really helped us out because we were looking for units that were in high demand and low in stock."
Tarah Ferguson
Frequently Asked Questions
How Far Can I Get?
Two-Way Radios work on line of sight.
What Channels Can I Use?
CB or Private frequency.
Which Radio Is Best?
There is no definitive answer as there are too many radios to choose from, they work on different systems, contact us for a quote.
Do I Need A Private Frequency?
If you are using your radios on a crane then a private frequency is required in order to comply with OH&S.
If you will be using radios for safety reasons then a private frequency is recommended in order to prevent unnecessary outside interference that can easily be caused with standard UHF CB radios.
What is the difference between a Two-Way Radio, Walkie Talkie and Handy Talkie
Nothing, they all refer to the same piece of equipment however a Two-Way Radio is the preferred terminology in industry. Walkie Talkies and Handy Talkies often refer to toys or recreational two-way radios.